Hello my fashionistas!
With the stormy weather I've personally been getting, I'm really feeling blue this season…but in the coziest way! Speaking of those cozy blues and blacks in the stormy clouds..its interesting how we typically tend to fall back on the color black when in doubt. For this gal, blue, is the color I always aim for. I believe that instead of asking ourselves"What to wear," ask yourself, "What COLOR should I wear today?"
This blue romper for instance is the perfect example, leaving tons of opportunity to play around with- & rock with your own unique style!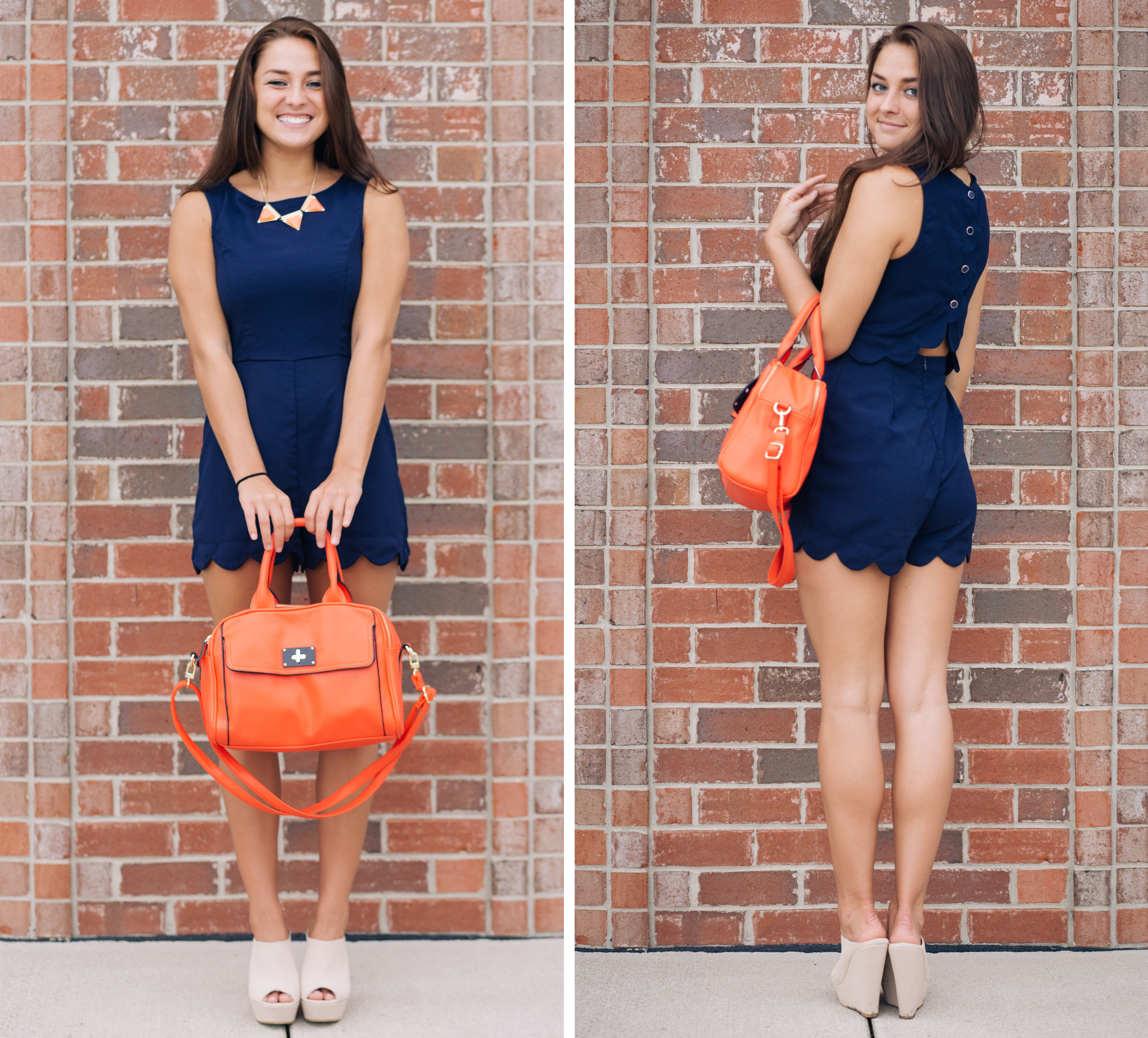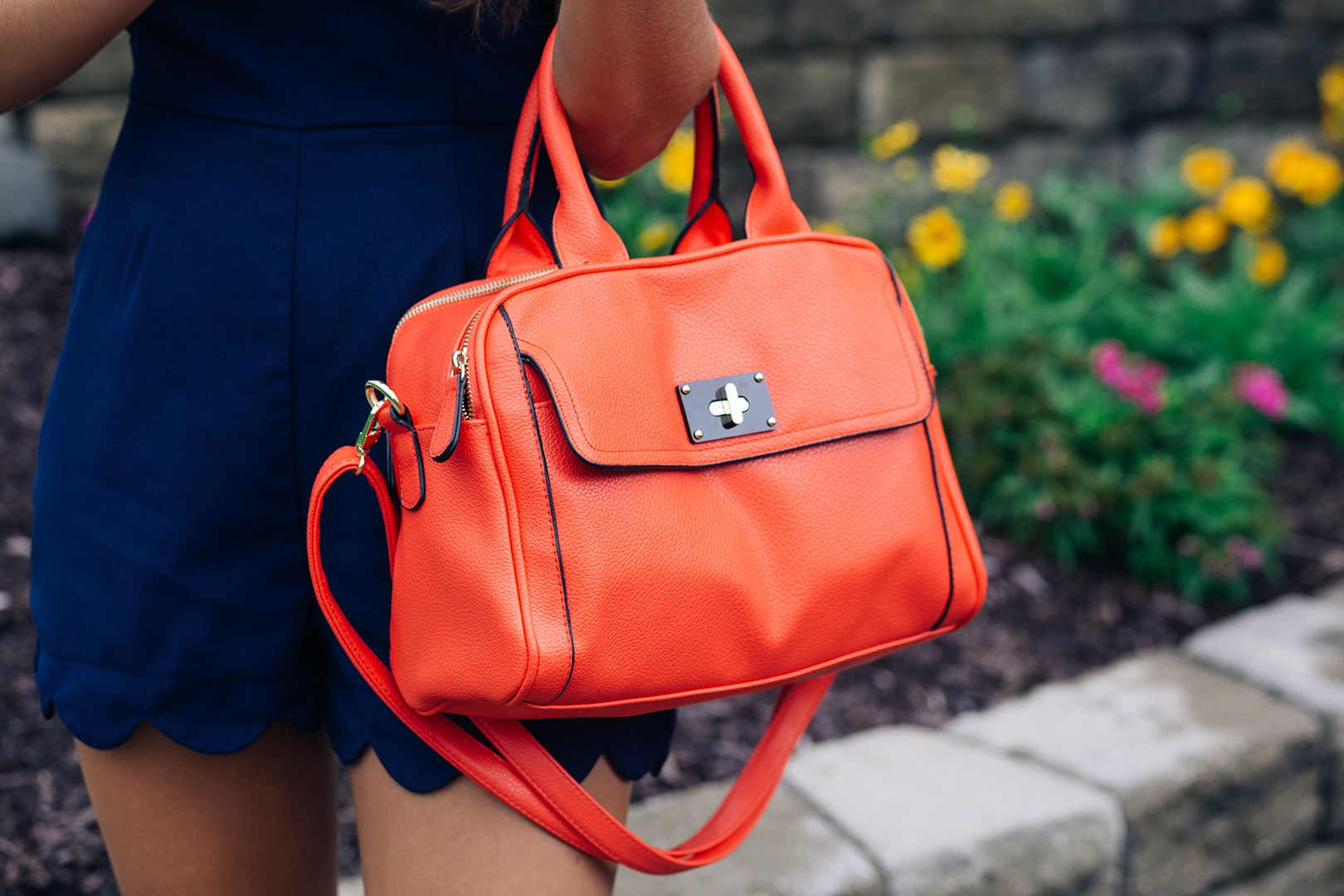 Every girl should have their own "color"- the one that makes them feel especially radiant.
For me, the corals of this purse are mine. Together, this purse helps me dress outfits up or down, while adding the perfect touch of a little extra girly-ness!
This could also be perfect as an extra pop of color with any outfit that doesn't contain a pattern.
"It has been known for eons that color plays a major role in one's mood or state of mind. Wearing the right or wrong color can affect one's feelings, moods, and emotions."
Chriselle Lim
So there, we have it, ladies. Now I legitimately have an ultimate no-breaker excuse to wear this adorable purse. 😉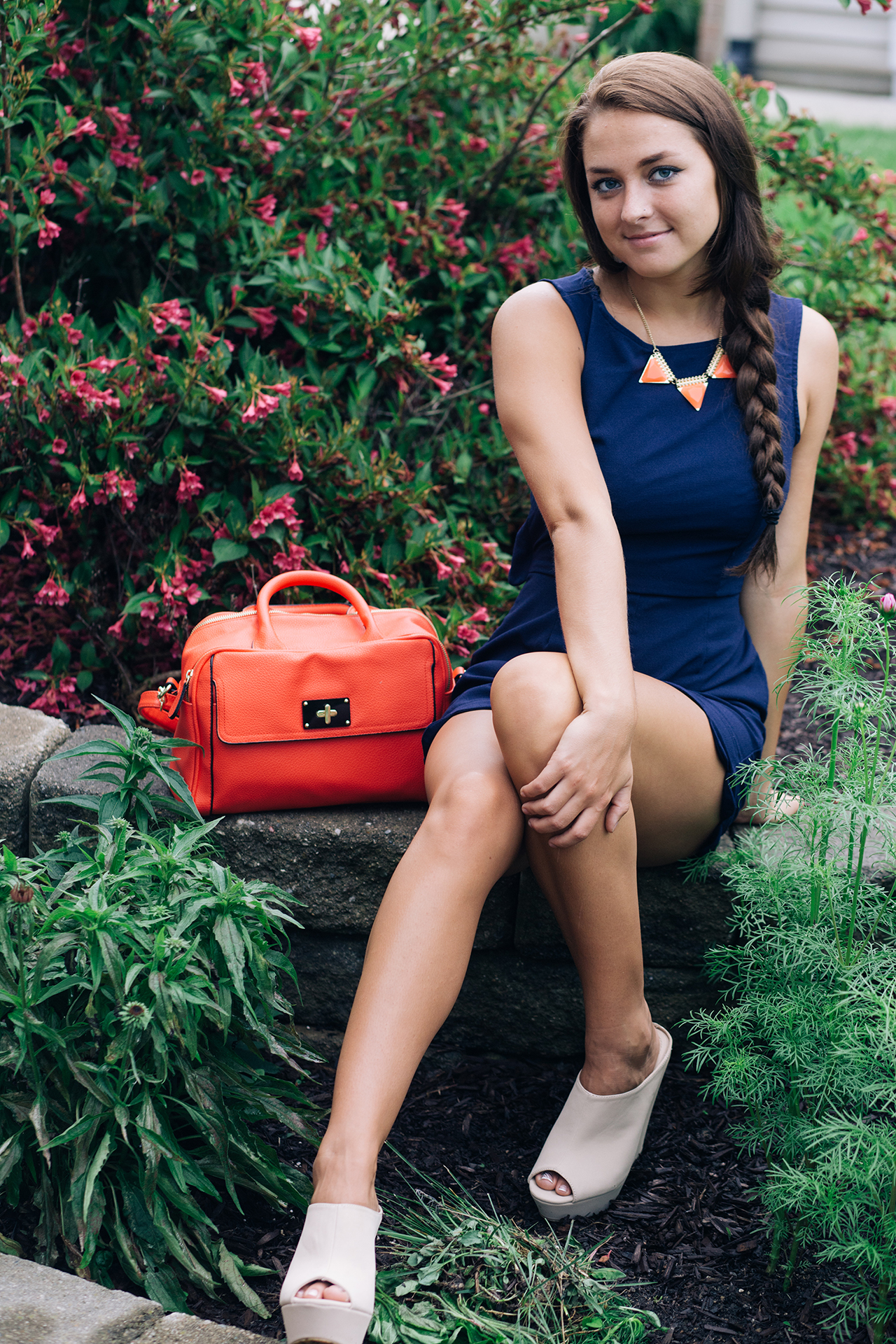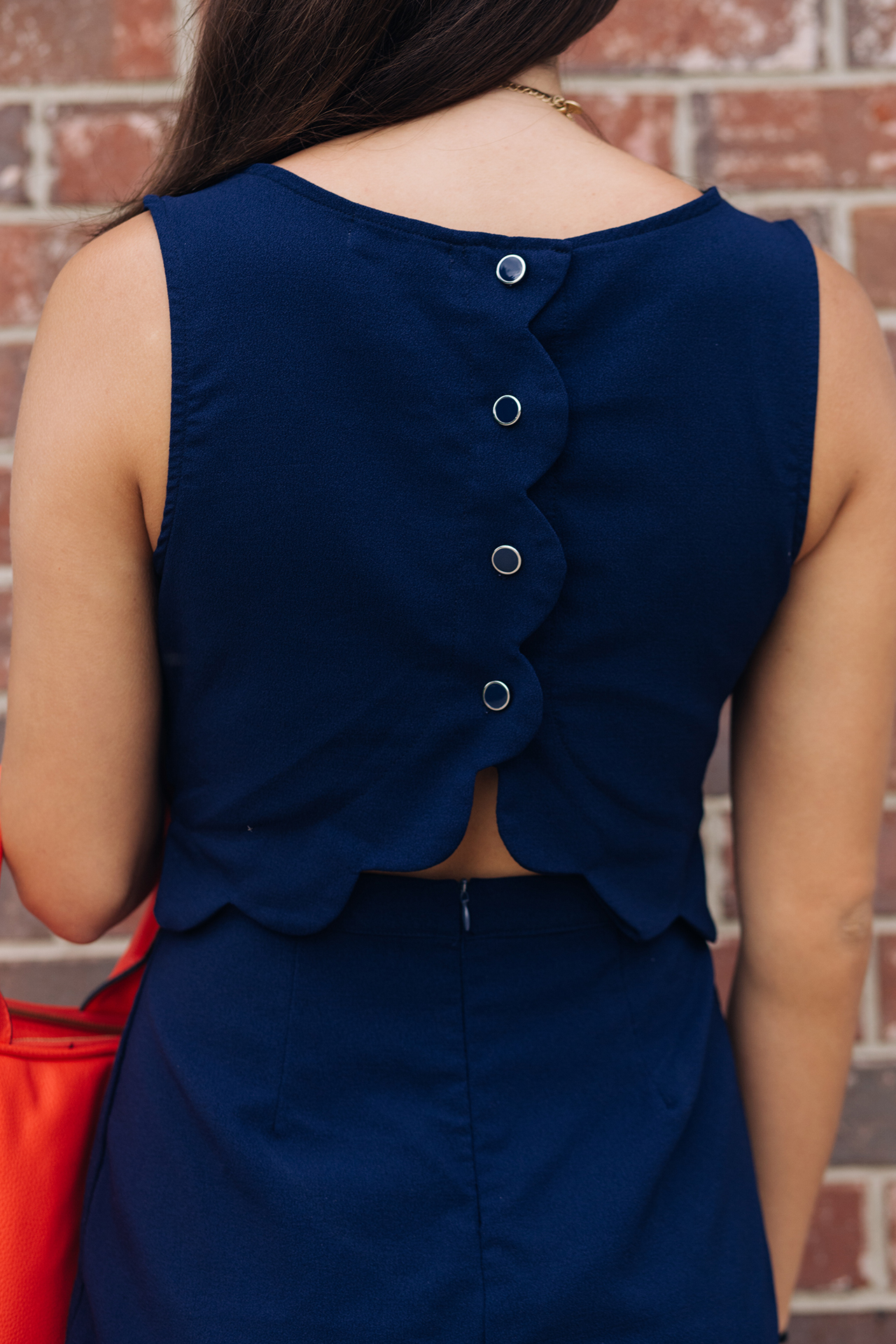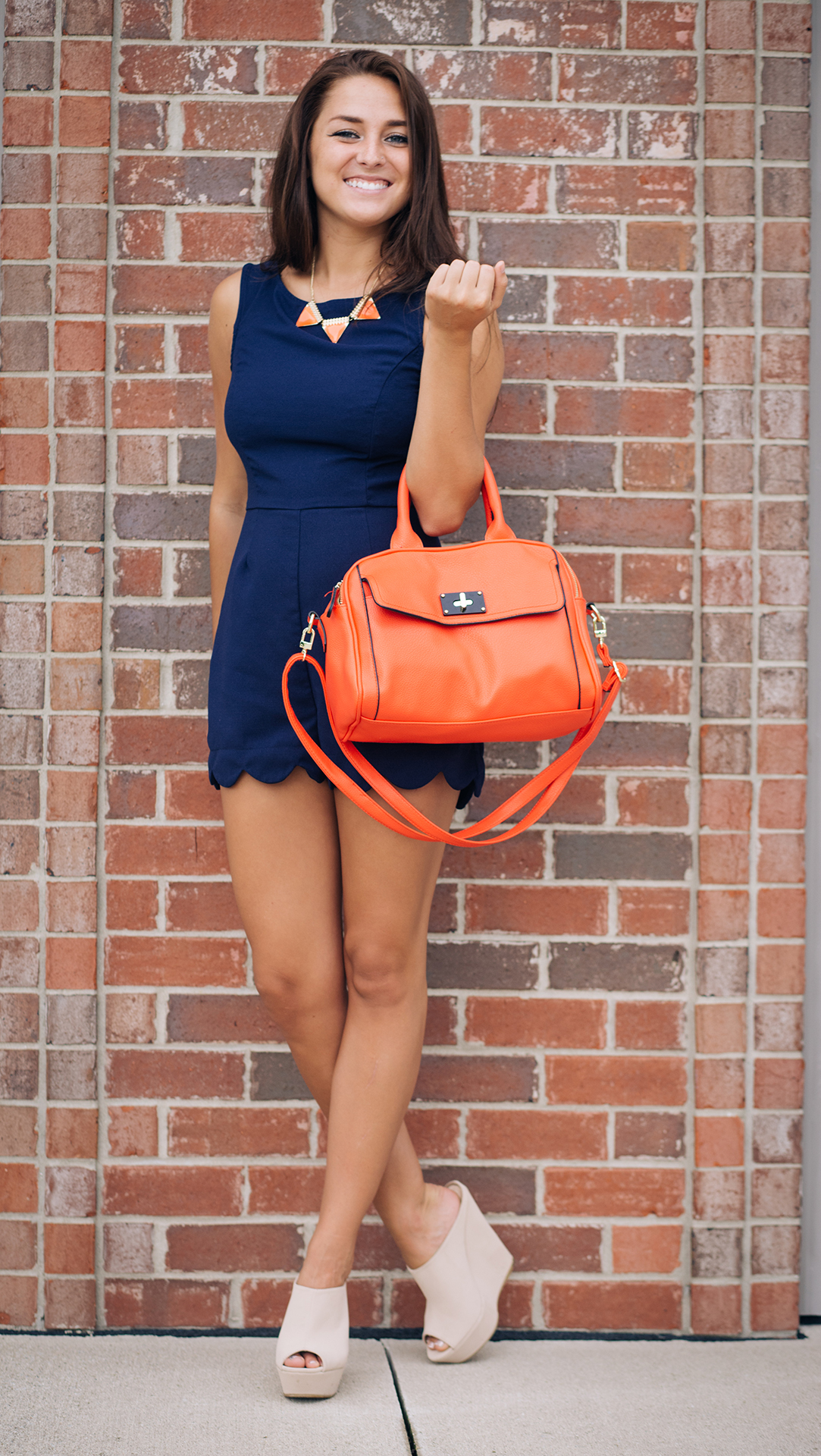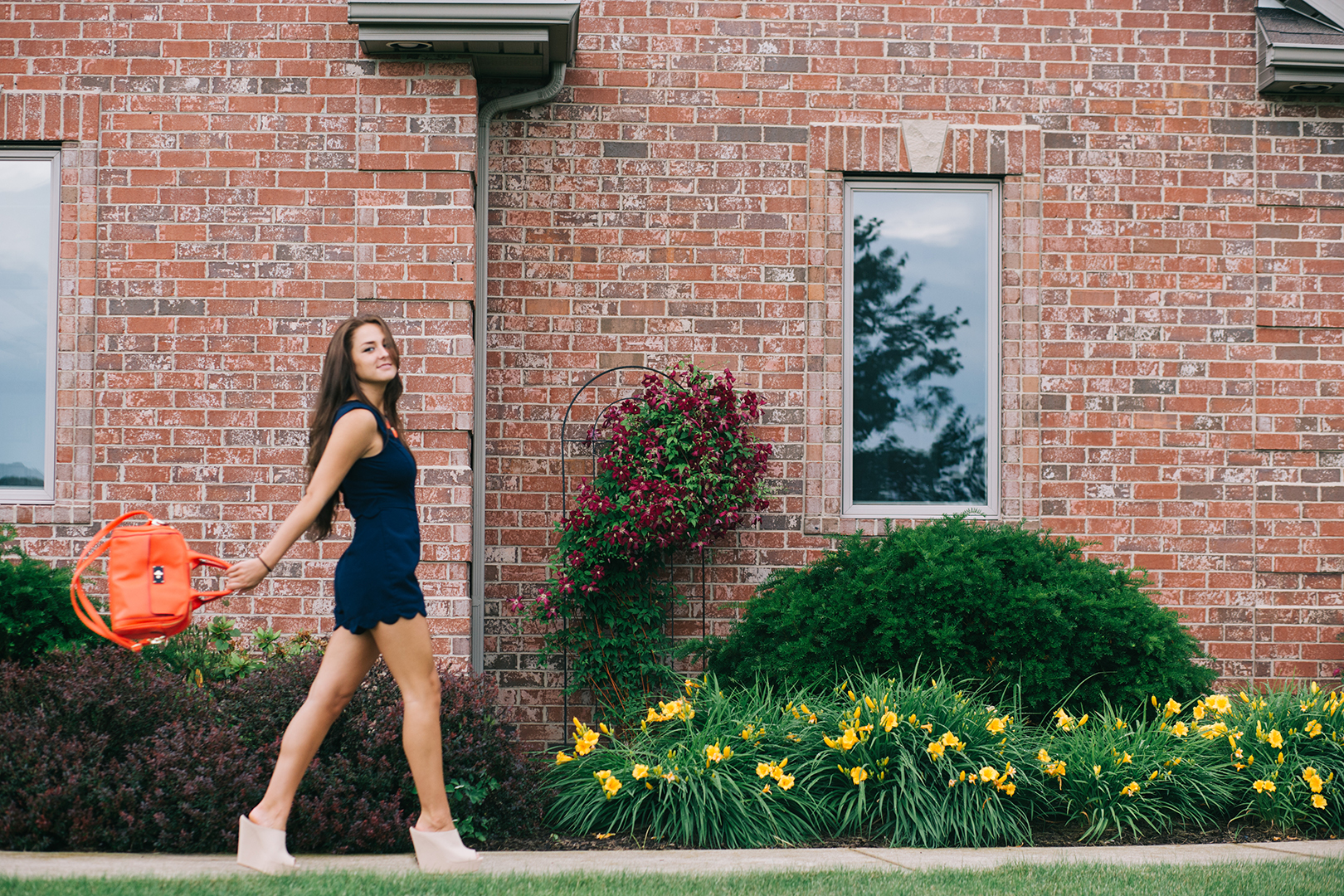 I personally go after looks that are simple and on-color-point. I feel like these looks are the most sophisticated.
I have to admit, this whole one-piece look has caught my eye lately. I will explain why. They are so incredibly easy when it comes to dressing. By that, I mean- this navy blue romper with scallops on the end, and the slit of an open back is easy to pick out, throw on, and pack.
This look is just perfect for going to work, class, and to "play" afterwards whether that means going out for a glass of wine in the evening with the girls. There ain't nothing like a navy blue romper that can make you feel glamorous and elegant all at the same time!
A navy blue colored romper with scallops for a touch of a flirty taste and the slit of an open back is seriously perfect for going to work, class, and to "play" afterwards.
What color makes you feel the most confident? Drop a comment below, I'd love to hear from my ThatsSoFashionating readers!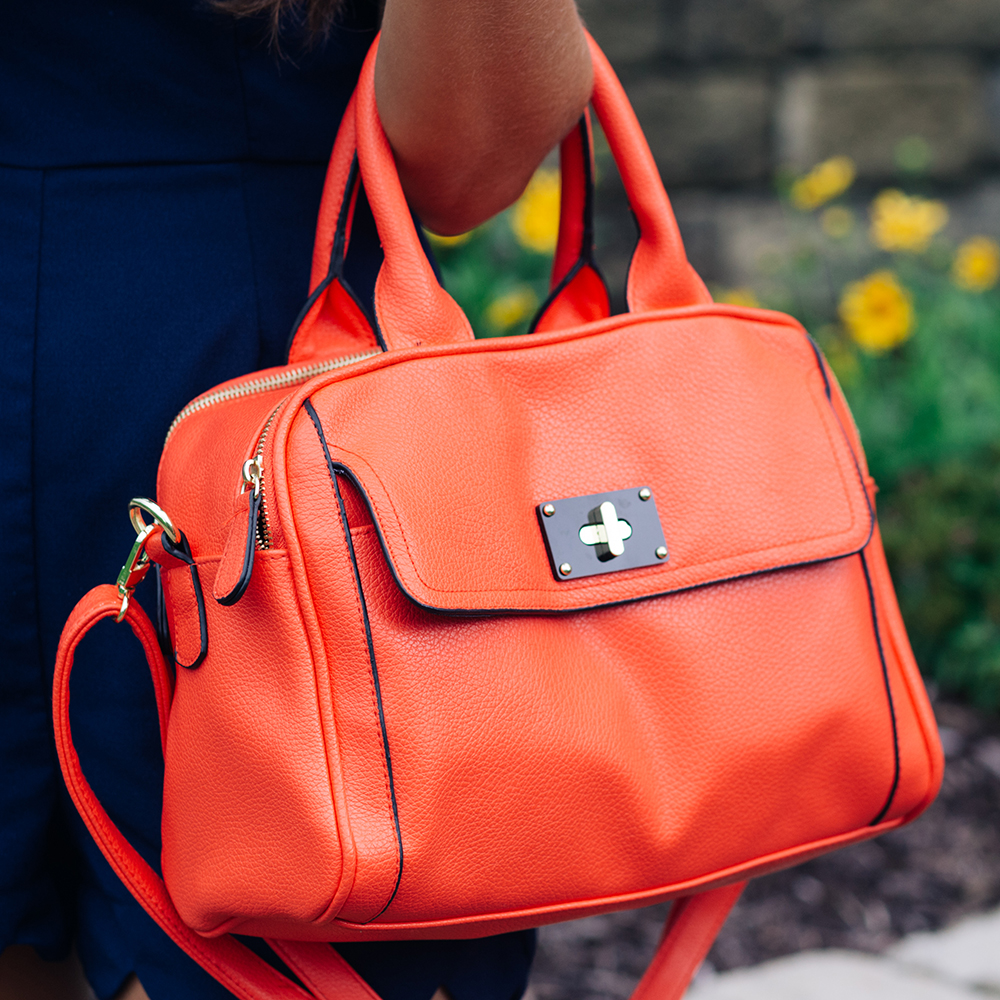 Giveaway!!!
Speaking of…*DRUMROLL PLEASE* It is time to finally announce the first-time ever That's so Fashionating giveaway! Since I really loved the orange purse, I figured that my fans would love to have a chance to win it!
Here is how the giveaway will happen: starting today, I will give two weeks for my fashionating fans to enter for a chance by simply doing one of the following and at the end of the two weeks, I will personally message the winner!
Message me on "Ask me Anything" to mention that you've done it all!

SHOP THE POST: Be sure to click the links and pictures below to get a "copy-cat" outfit just like mine!
"Ahead of the Curves" scalloped Navy Romper: $60. This adoablely comfortable romper can be found on Lulu's.
Satchel handbag: ONLY $14! This handbag is not only fashionable, but it is easily within anyone's budget!
Tulisa by ShoeDazzle: Reg. $50, $10 with VIP membership. These shoes are not only great for this outfit, but for many others of different colors!
And please don't forget to subscribe to our weekly newsletter to get updated to the latest postings and Fashionating Deals!